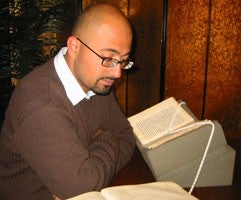 Education:
B.A., Humanities, University of Texas – Austin (1998)
M.A., History, UCLA (2002)
Ph.D., History, UCLA (2005)
Biography:
Ali Anooshahr received his BA from the University of Texas at Austin in 1998. He spent the next two years in "teachers' boot camp" as a substitute teacher in the Houston Independent School District. He was subsequently admitted to UCLA's History Department where he obtained his MA (2002) and PhD (2005) in Islamic History. He was a CLIR-Mellon post-doctoral fellow in 2005-6 and Ahmanson-Getty Fellow in 2006-7. He used that time to convert his dissertation into a book manuscript, teach courses at the Cal State system, and catalog Persian, Ottoman, and Arabic manuscripts at UCLA Library's Special Collections. After a year of teaching at Saint Xavier University in Chicago, he moved to Davis in 2008 as a scholar of "comparative Islamic Empires".
In his numerous publications, which include The Ghazi Sultans and the Frontiers of Islam: A comparative study of the late medieval and early modern periods (Routledge, 2009), Anooshahr focuses particularly on the transmissions of texts and individuals along networks that connected India, Iran, Central Asia, and the Ottoman Empire. His current research include Indo-Persian historiography as well as revising early Safavid history.
Contact:
aanooshahr@ucdavis.edu